VR and the future of maritime training
27 April 2021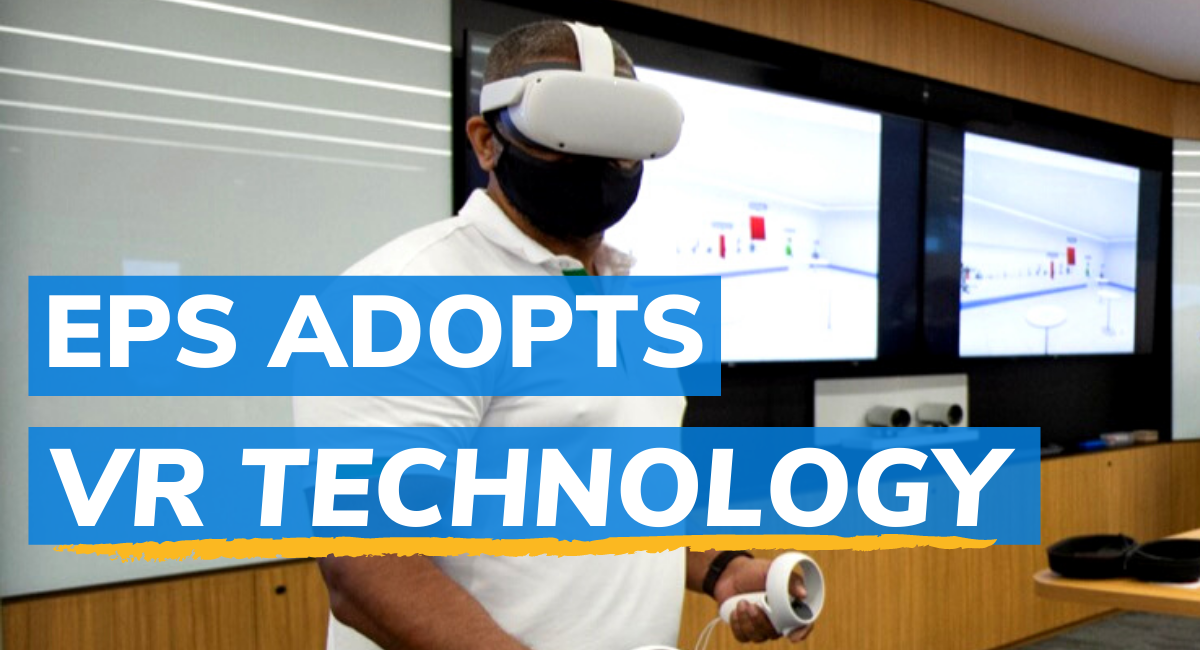 EPS Adopts Cutting Edge VR Technology for Industry Leading Maritime Operations Training

27 April 2021 | Claus Nehmzow, Chief Innovation Officer, Eastern Pacific Shipping 
Since January 2020 EPS has been leading a revolution in seafarer training through its investment in collaborative Virtual Reality technologies.

 

Partnering with Kanda, EPS has developed an interactive, multi-user VR experience for training seafarers in Liquified Natural Gas (LNG) bunkering.

 

Compared to existing paradigms of seafarer training, VR training promises to be cleaner, greener, leaner – and much more fun.

 

The LNG training module has already been endorsed by shipowners, managers, and is just a glimpse of greater innovation in maritime training to come.
Training Vital for Maritime Operations
Seafarer training is a vital component of safe and successful maritime operations. Take dual-fuel LNG vessels, for example. These vessels are an important part of the maritime industry's efforts to curb carbon emissions, and an important part of EPS' own sustainability commitments. 
Yet introducing new ships introduces new challenges. LNG is stored at a negative 162 degrees centigrade and requires special skills to handle properly. During port-side LNG bunkering, the vessel's crew needs to know how to check pressure lines, connect hoses in a specific sequence, and open or close the right valves at the right time. Failure to do so correctly can have disastrous consequences. 
In Need of a Sustainable Approach to Training
Historically, seafarers have obtained the relevant training by flying to places like Singapore, Copenhagen, or Seoul to attend a multi-day course at a maritime academy. There are, however, significant disadvantages to this approach. 
It's expensive, both in environmental and financial terms, because it involves international travel. In a pandemic-stricken world, it's also unsafe, because of the risk of infection, and impractical, because of tight border controls.

Then there are temporal and physical constraints. Apart from time spent in hardware simulators, most of the teaching takes place in a traditional classroom and must take place within a limited number of days. Even the physical simulations are restricted to a given number of students at a time, and only allow students to practice on equipment that often is older and smaller than what they will actually be working with at sea. 
Reimagine Training with VR Technology
Now imagine how VR technologies could solve these problems. Imagine if a seafarer could strap on a lightweight Oculus headset from the comfort of their home, manning office, or hotel room, and step onto the deck of a virtual EPS ship, complete with LNG pump and the manifold equipment required for LNG bunkering operations. 
Imagine if the seafarer could see the avatars of fellow classmates and the instructor, and hear their voices – quieter for those further away, and louder for those closer by – while walking around and exploring the ship environment. 
Imagine if the seafarer could collaborate with other students to complete an LNG bunkering operation, training their muscle memory by using virtual spanners (with haptic feedback so that they feel real) to loosen or tighten bolts in the LNG hoses, while the instructor observes closely, intervening and demonstrating as needed. 
Imagine if, after a series of incorrect actions, the virtual pump equipment explodes dramatically, demonstrating the consequences of seafarers' making serious mistakes in a safe yet vivid way. 
 
Solution Exists Today
Fortunately, we don't need to rely on our imaginations, because Kanda, an EPS-funded start-up, has already made this vision a (virtual) reality. The benefits of the new approach are clear and comprehensive. 
First, it's clean, eliminating the risk of transmitting Covid-19 between seafarers and across international borders (as well as the associated inconveniences of quarantines, Covid testing, and safe-distancing measures). 
Second, it's green: obviating the need for seafarers to take long, carbon-intensive flights, and preparing them to crew lower-carbon dual-fuel Liquified Natural Gas ships. 
Thirdly, it's lean: reducing the thousands of dollars and hours spent on travel; empowering instructors, students, and content developers to work more flexibly, independently, and remotely; creating a marketplace where instructors can deliver content over longer periods of time to students all over the world, rather than cramming it all into a few days. 
Finally, and perhaps most importantly, it is also far more realistic, and exciting. Training is not limited to narrow simulations but can reflect the most up-to-date equipment and vessel configurations and can accommodate as many students as needed. Because of the immersive nature of VR, students can get a feel for the true scale of the vessels they will be working on and the equipment they will be operating, making them better prepared for actual operations. For a generation that has grown up infatuated with high-fidelity videogames, VR training will also appeal much more to seafarers than PowerPoint slides, zoom calls, and lectures. 
Backed by Industry Stakeholders 
So impressive, effective, and fun is this new form of training that it has already received endorsements from ship owners / managers and, perhaps most importantly, seafarers. Yet Kanda's virtual LNG training is just the beginning. 
Live, online, interactive VR technologies are mature enough to deliver quality content today, but will only continue to improve, becoming ever more realistic and immersive. 
Simultaneously, we can expect teaching methods to evolve in tandem to take advantage of the new technological opportunities. This will likely include increased gamification to improve student engagement and the use of continuous assessment as supplements or even alternatives to traditional multi-choice question exams for testing seafarer readiness. 
Whatever the future of maritime VR training may look like, EPS will be at its cutting edge.