The Eastern Pacific Accelerator reveals its 2020 class
17 December 2020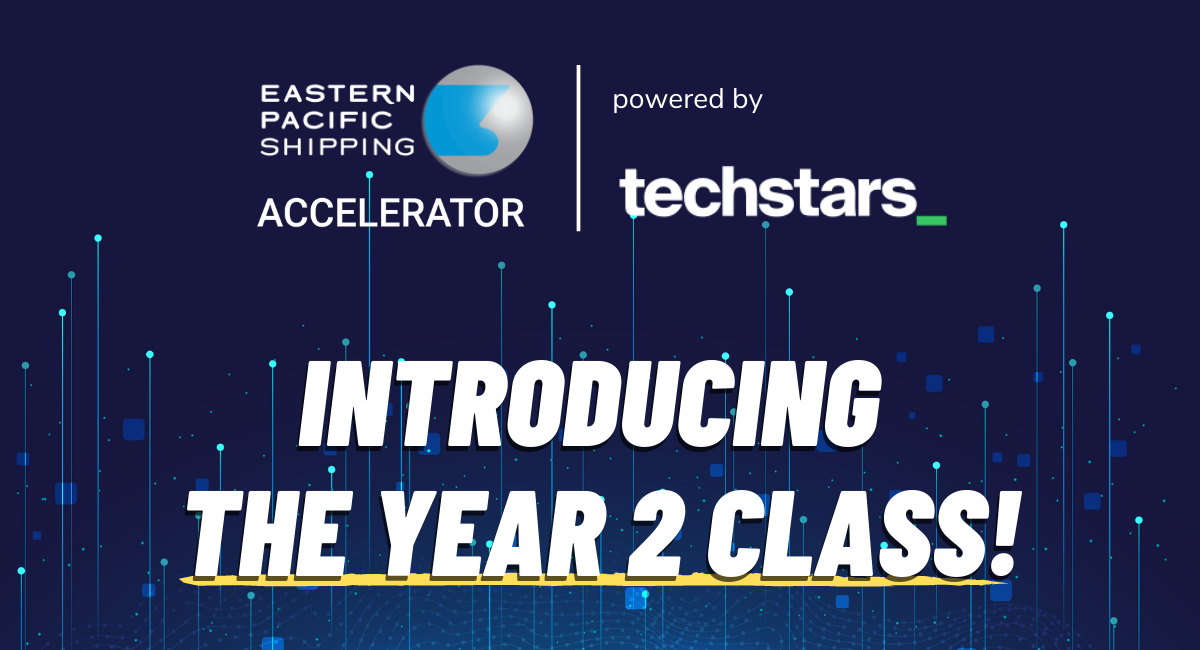 Year two of the highly anticipated maritime accelerator powered by Techstars will see a diverse group of startups tackle a wide range of needs

The onset of COVID-19 has fundamentally changed how the world lives, travels, and does business. For the maritime industry, the pandemic highlighted an urgent need to implement technology and acted as a catalyst that accelerated innovation efforts. For Eastern Pacific Shipping (EPS), that means the second year of its accelerator programme powered by Techstars will play a larger role in reshaping the digital maritime landscape. 
This year, EPS and Techstars sifted through over 1,000 applications to find and invest in nine startups which hail from Belgium, Denmark, India, Israel, New Zealand, Singapore, Spain, and the US. Each startup has the potential to advance the maritime community forward, especially when it comes to sustainability, health, and safety. Their product offerings range from robotics, machine vision, VR, AI, fuel efficiency, and more. Through industry-wide collaboration, mentorship, and support, these startups aim to implement a new way of getting things done in an industry that has been historically slow to adopt innovation.
Special Advisor for Innovation at EPS, Gil Ofer, said, "When we started this programme, our vision was to create a platform where the maritime industry can collaborate and move forward together. Year one succeeded in this when we saw over 150 industry leaders offer their expertise to our startups, not for financial gains but rather for the greater good of the industry. Although year two will be mostly virtual, I believe this class will bring out the same level of enthusiasm, motivation, and inspiration, allowing them to create a strong network and a clear path to commercialisation."
The nine startups will embark on a mostly virtual 90-day mentorship-based journey culminating in a Demo Day in February 2021. The partnership between EPS and Techstars was initially announced in 2018 and was launched in November of 2019 with an inaugural class of nine startups. The programme has supported 18 companies to date, with another ten estimated for year three. 
Meet the startups!
The Fuel Matrix – Fuel Matrix is building a solution to help ocean-going vessels reduce fuel consumption and emissions by improving conventional liquid fuels for more efficient, cleaner combustion.
Aliciabots – Robotics start-up building the cheapest and most effective autonomous, robotic hull cleaning solution for ocean-going vessels.
Spoolify – an AI platform connecting the $25Bn maritime service jobs industry to vetted personnel from around the world.  
SeaErra – SeaErra Vision provides AI based solutions that enable underwater vision, significantly improving visibility, contrast and colors in real-time.
Kanda – Uses virtual, augmented and mixed reality to make training in heavy industries (maritime, energy, airline, manufacturing) more effective and cost/time efficient.
Nido Robotics – Builds underwater robots and offers them for effective inspection, maintenance and research services.
Cerekon –  Revolutionises the way industrial inspections are conducted by making it handsfree, faster and safer for inspector and auditors.
Captain's Eye – Uses machine vision analytics to improve crew and vessel safety on board ocean-going vessels, as well as reduce risk of  maritime accidents and ocean pollution.
Mushroom Material – A sustainable customizable alternative to Expanded Polystyrene (Styrofoam) and cardboard.