Ready, Set, GO! Adventure Race Japan Begins!
18 May 2023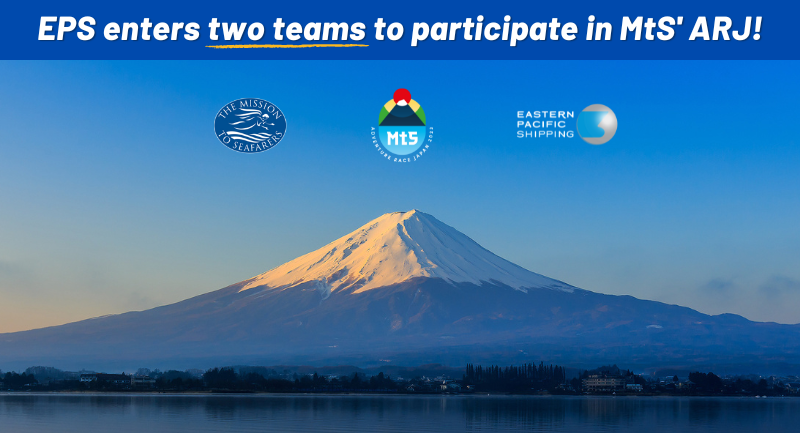 EPS enters two teams into the Mission to Seafarers (MtS) Adventure Race Japan (ARJ) in support of its effort to improve seafarers' welfare!
The ARJ is MtS's first bespoke adventure race to take place in Asia and is a way for the international shipping community to support seafarers who keep the global economy afloat. Held from 18th to 21st May, the event will see nearly 200 participants travelling through the Izu Peninsula towards Mount. Fuji, which is also a designated UNESCO Geopark.
EPS' two teams – Quantum Racing Knights and Quantum Racing Warriors – consists of a mixture of sea and shore staff. Representing us are the fitness leaders of the EPS Community as well as the winners of the "Fittest EPS'er" challenge, where a six-month long competition was held to reinforce our fitness culture and encourage a healthy and active lifestyle.
Both teams will be taking part in the Black Dragon Race, competing against 62 other teams over the course of two days. The course will span across the park's natural terrain covering a total distance of 24.7km where participants will have to work as a team to hike, run and paddle board their way to the finish line.
Additionally, EPS will be committing $10,000 towards the ARJ in support of the two teams and the maritime community.
EPS is no stranger to MtS' work. Last year, EPS raised over S$1.5 million for MtS through our Around the World Fundraiser: Sammy Ofer's Centennial Celebration, paying tribute to the late Sammy Ofer on what would have been his 100th birthday. In commemoration of his life, legacy and contributions to the maritime industry; EPS, together with our corporate partners walked, run and cycled, covering a distance of 217,448km, going around the world twice, pledging to a cause near and dear to Sammy Ofer and the EPS Community.