Introducing the Nine Startups!
20 November 2019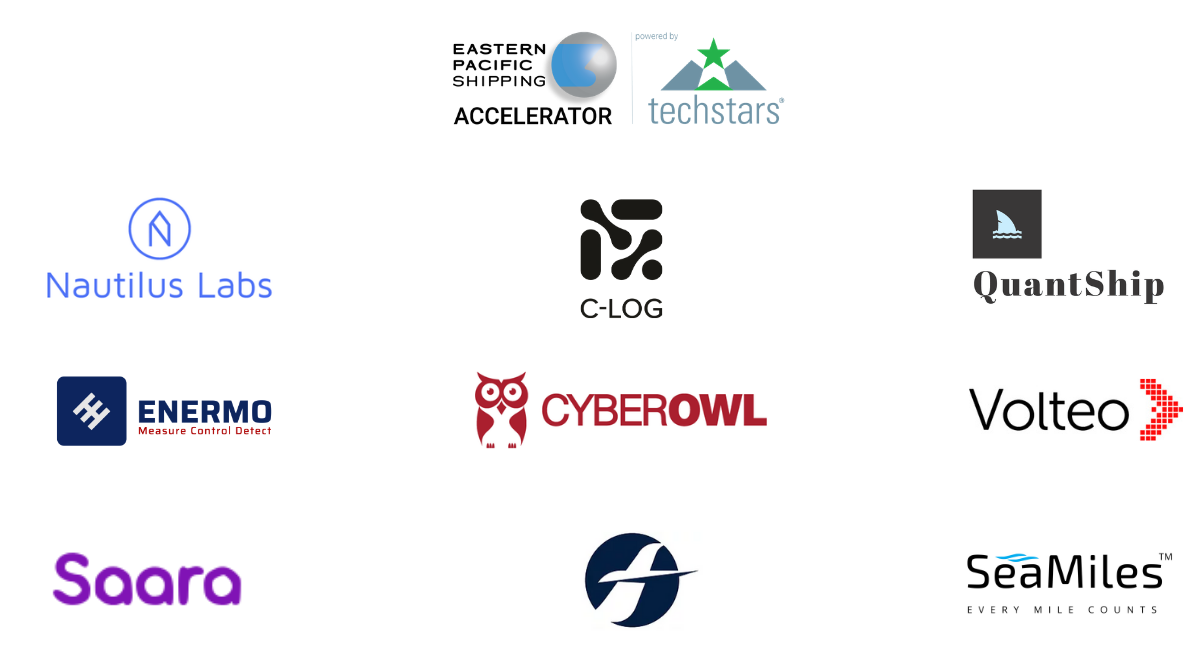 Eastern Pacific Accelerator's first class include the following startups:
For more information, please visit: http://accelerator.epshipping.com.sg/

———
Widely recognised as Singapore's largest shipping company, Eastern Pacific Shipping (EPS), has partnered with global early stage investor and accelerator, Techstars to launch the first dedicated global maritime accelerator called the  Eastern Pacific Accelerator powered by Techstars. Today, the Eastern Pacific Accelerator powered by Techstars has announced its first class of nine startups, which were selected from hundreds of worldwide applicants. The class of startups was selected with careful consideration and input from EPS' Operations, Marine Technical, Commercial, IT, Fleet Personnel, and Management teams, who would work closely with each startup to test their technologies and accelerate their businesses.
The Eastern Pacific Accelerator powered by Techstars aims to bring digital, technology-led solutions to problems faced by one of the oldest trades around – the shipping and maritime industry. From November 2019, the nine startups will go through an intensive three-month programme of research and development, mentorship, and collaboration at EPS' headquarters in Singapore.
The nine startups, are from Singapore, Denmark, UK and USA. One of the startups, C-Log has recently moved their global headquarters to Singapore, while US-based Volteo has spun-off Volteo Maritime as a Singapore company. Nautilus Labs is also establishing a permanent presence in Singapore while keeping its headquarters in New York City.  All three moves demonstrate the importance of having a presence in the Lion City, which is a strategic global maritime hub.
Gil Ofer, the Head of Open Innovation at Eastern Pacific Shipping said, "We see a need for technology to propel the maritime industry forward, especially with a rapidly digitalising society and an increase in global trade. That means the shipping industry needs to innovate to solve problems such as fuel consumption, operational efficiency, fleet performance, and improving life-at-sea for seafarers – and we are doing just that with the Eastern Pacific Accelerator powered by Techstars. For these pioneering startups, EPS can provide access to a deep network of industry players, real-world data, and operational insights from our experienced maritime experts that will accelerate the development of their products."
The world's shipping and maritime sector continues to grow, accounting for around 90 per cent of all goods moved globally, spanning over 50,000 vessels and over a million seafarers, according to the International Chamber of Shipping (ICS). The United Nations Conference of Trade and Development's (UNCTAD), meanwhile, estimates that volumes of global seaborne trade will grow by 3.8 per cent between 2018 and 2023. However, the industry faces a number of critical issues – with innovation proving crucial to sustain its competitiveness and growth.
Claus Nehmzow, Chief Innovation Officer at Eastern Pacific Shipping commented, "The shipping industry is continually evolving, but change comes slowly and in incremental stages. However, issues such as sustainability, reducing emissions, and seafarer's mental and physical wellbeing can no longer take a wait-and-see approach. The goal is to address these issues today through the accelerator and to inspire the industry to take a technology-first approach to solving problems.
"EPS believes that by partnering with Techstars, we can combine the best of maritime knowledge and technology know-how, to innovate the maritime space to address some of the biggest issues facing the industry. We hope to be able to spark a renaissance in how maritime trade is conducted and to usher in a wave of next-generation tech for the shipping industry," added Mr. Nehmzow.
During the intensive three-month programme, the startups will receive hands-on mentorship from industry experts, access to EPS' operational data, and the opportunity to deploy their technology on EPS' diverse fleet of over 150 vessels. The programme will also provide the founders with access to Techstars' network of mentors, investors and partners. In February 2020, the accelerator will culminate in a Demo Day where the founders will pitch to an audience of top investors, multinationals, government partners and other ecosystem players.
Dhritiman Hui, Managing Director of the Eastern Pacific Accelerator powered by Techstars, shared, "We are thrilled to be in partnership with EPS and to focus on an industry that's ripe for disruption. Techstars has seen many startups successfully tap on the power of partnerships and mentors to energise different industries. These partnerships play an important role to develop innovative solutions that address real market needs. Corporate partners, like Eastern Pacific Shipping, are critical in commercialising these solutions, and when that happens everyone benefits."