EPS' decarbonisation and seafarer wellbeing efforts featured in Safety4Sea
18 August 2022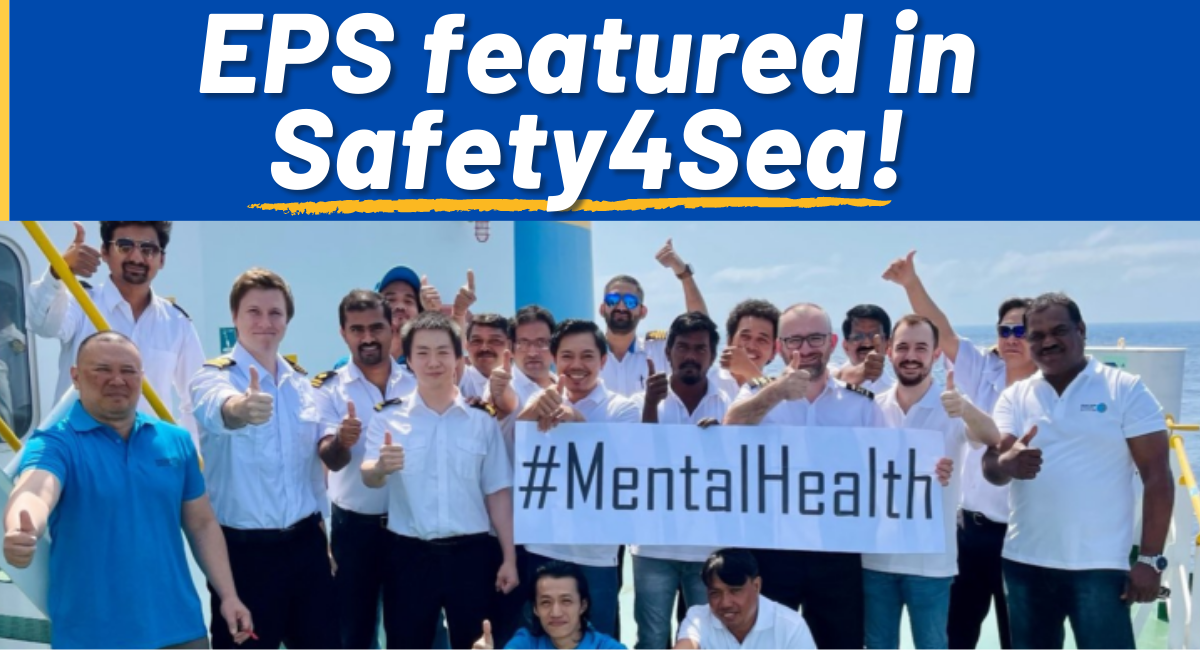 EPS CEO Cyril Ducau met with Safety4Sea to talk about the measures EPS has taken to improve our environmental footprint and the welfare of our employees across sea shore. Read the article in its entirety below!
+++
EPS: Decarbonisation and crew welfare as top priorities
Cyril Ducau, Chief Executive Officer of Eastern Pacific Shipping (EPS), explains the measures EPS has taken in order to improve its environmental footprint, by focusing on decarbonization initiatives. However, as Mr. Ducau further notes, EPS also wants to enhance the welfare of seafarers, and for that reason the company is promoting efforts targeting both the physical and the mental health of the crew onboard.
E
veryone agrees that the goal is zero emissions. However, finding a zero-emission solution is not straight forward, especially when one contemplates a variety of parameters such as operational safety, technical feasibility, and economic viability. Given the segmentation of shipping, there will ultimately be a variety of carbon neutralising solutions depending on vessel types and trading routes.
Lowering our footprint

As a leading tonnage provider, EPS has a responsibility to develop potential zero emission solutions for tomorrow while implementing emission-lowering technology today. Our holistic alternative marine fuel programme incorporates LNG, LPG, Ethane, and Biofuels to significantly reduce our carbon footprint today. Simultaneously, we are developing Methanol and Ammonia solutions for tomorrow. We also are retrofitting a small fleet of our managed tankers with carbon capture systems – making them the largest ocean-going vessels fitted with the technology.
The hope is to prove that carbon capture is a viable and scalable option for the future. As of today, we have installed or are planning to install emission reduction solutions on over 70% of our fleet, which has already resulted in a significant reduction in our environmental footprint. As a company, we are setting explicit management targets on fleet AER, which are beating the IMO trend line and are being publicly reported in our annual Environmental, Social & Governance (ESG) Policy.
This year, we hope to reach a fleet AER of less than 4 (g/DWT x mile), which would mean a 20% reduction in emission since we started our decarbonisation journey. We are conscious that it's not just how we move our ships that matters – it's also about what we move. Since April 2020, we have not carried coal on our commercially managed dry bulk vessels.
In 2022, we made this best practice official by implementing a No Coal Cargo Policy, which is outlined in our ESG Policy. With a significant portion of our commercially managed fleet being in the dry bulk segment, we aim to play a small part in making one of the world's worst pollutants that much harder to access.
EPS is committed to sharing best practices, expertise, and resources to accelerate the industry's energy transition. We are one of seven founding members of Singapore's Global Centre of Maritime Decarbonisation, a collaborative non-profit organisation that aims to help the industry eliminate GHG emissions. We also partnered with Singapore's Nanyang Technological University for an Ammonia Bunker Study, lending our industry-leading expertise in loading, transporting, and discharging gas as cargo to develop ammonia bunkering protocols. In addition, we signed a Memorandum of Understanding with counterparties to develop methanol and ammonia as marine fuels by retrofitting select conventional vessels in our tanker fleet and building new ships with methanol and ammonia compatible engines. While these initiatives address the environmental side of our business, we are also investing heavily in the people side.
Life at Sea Programme
With a fleet of 20 million DWT, comprised of 200 vessels across our dry bulk, containership, and tanker segments, we are undergoing unprecedented growth in a fast-changing environment. To manage this growth, we have shifted our culture from managing ships to leading people. To reinforce this culture shift, we have refreshed how we think about seafarer involvement and wellbeing with the EPS Life at Sea Programme. This comprehensive set of benefits aims to enhance the quality of life onboard today while investing in the next generation of seafarers.
Making time at sea an enjoyable experience meant reimagining living spaces onboard to create an inclusive and collaborative environment. We worked with professional designers to create modern, bright, and open living areas onboard that strengthen camaraderie, develop a sense of belonging, and forge an integrated culture across sea and shore – all crucial elements to feeling safe and appreciated. Our revamped blueprint for vessel accommodations includes community mess halls, vibrant and modern recreation lounges furnished with flat-screen TVs, video and board games, guitars, free Wi-Fi in common areas and more – all which help seafarers forge strong relationships while at sea.
To promote a fitness culture, we equipped every EPS managed vessel with state-of-the-art gymnasiums. To further encourage and emphasise the importance of physical wellbeing, the EPS Community has access to virtual coaches who share tips and exercises through a Physical Readiness Programme. The aim is to help achieve balanced strength, endurance, and mental resilience through functional and bodyweight training. Our fitness culture was in full force when our sea and shore teams were among thousands of participants of the 2022 EPS Around the World Fundraiser. The group, which included people from across the maritime industry, collectively travelled 217,448km while raising S$1.58 million for The Mission to Seafarers.
These benefits certainly have a positive impact, however the inherent physical and mental demands of life at sea, coupled with the long-drawn global effects of Covid-19, have weighed heavily on the mental wellbeing of our sea and shore colleagues. As a result, we understood that more needed to be done to protect the mental wellbeing of our community. To address this concern, we established a partnership with a professional mental health service provider to break the mental health taboo and provide our team access to insights, tips, mental exercises, and 24/7 support from a dedicated qualified Clinical Psychologist.
Staying in touch with family and the EPS Community worldwide is also important for mental health. Therefore, we increased connectivity and internet bandwidth at sea so that our seafarers can connect with loved ones using free monthly data packages and complimentary Wi-Fi in common areas. Additionally, we introduced an internal social network to foster a robust, interactive, and engaging community. This digital platform connects our 6000-strong and growing community through their mobile devices, where they engage in organic conversations, discuss best practices, celebrate milestones, and participate in company-wide contests and challenges. They are also able to have two-way conversations with senior management, which plays an important role in establishing a sense of inclusiveness across the organisation.
As the saying goes, 'nothing brings people together like good food'. At EPS, we believe that meals served onboard are not just about essential nourishment. It's about finding common ground to unite our multicultural team. That's why we provide high-end, professional-grade cooking appliances, such as pizza ovens, in our galleys. We also train our chefs to deliver a world-class culinary experience onboard by serving dishes that create an engaging dining experience that brings cultures and ranks together.
Training begins with our in-house Culinary Consultant, Chef Patrick, a highly sought after and regarded professional chef who has spent his career preparing meals for top political and business leaders. Chef Patrick works with our cooks onboard to create easy, nutritious, and mouth-watering menus. To further enhance their skills, EPS cooks attend an intensive five-day culinary training by executive chefs from a world-renowned hotel that covers an extensive range of topics such as knife skills for varying cuts of meat and vegetables, creation of spice mixes, sauces, and tips to perfect various global cuisines and more.
Implementing sustainable methods of growing vegetables onboard is another initiative we are developing. Select EPS managed vessels are conducting trials to grow fresh lettuce using an advanced hydroponics system. Teams have already been ablet to nurture seedlings into fresh, full-grown lettuce. The impressive harvest yielded a delicious meal for the entire team. What was more encouraging to see was the unique sense of ownership and special bonds formed between the groups during the trial, which was especially important earlier this year when Russia invaded Ukraine.
Following the invasion, we anticipated that our 600 Ukrainian employees would potentially be impacted, displaced, and in danger. Our team sprang into action and began renting apartments in Varna to provide safe and free housing for all EPS Ukrainian seafarers, manning office staff, and their immediate family members. Over 400 people, including adults and children, have made their way to these apartments. They have been supported by EPS teams in Odessa and Varna and teams from our global offices, who are working tirelessly behind the scenes to ensure our colleagues and their families are safe and comfortable.
The EPS Life at Sea Programme, Around the World Fundraiser, and our accommodations in Varna remind our colleagues that they are part of something bigger – a community that celebrates its successes and supports each other in times of need.
These initiatives have undoubtedly created a close-knit EPS Community, enhanced company-wide communication, and increased employee satisfaction, which equates to a safer, more productive work environment. While it's no secret that this has helped attract and retain talent across our young and diverse fleet, the main driver behind our actions is that it is simply the right thing to do.
Seafarers are the backbone of the maritime industry, and it is up to shipowners and managers to create company cultures that not only support meaningful and rewarding careers but also provide a sense of overall mental and physical wellbeing.