EPS Celebrates 100th LNG Bunkering Operation
16 June 2023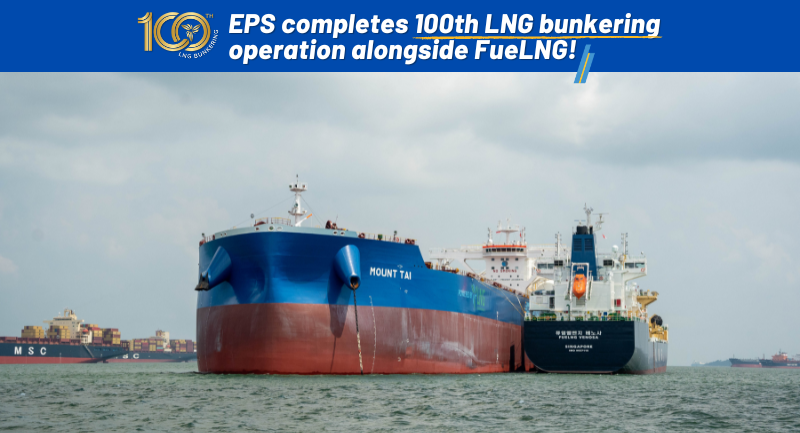 Eastern Pacific Shipping celebrates 100th LNG bunkering operation milestone alongside FueLNG
The newly delivered Newcastlemax, M/V Mount Tai, was bunkered by FueLNG Venosa, a state-of-the-art bunker vessel and newest fleet addition
SINGAPORE, 16 June 2023: Eastern Pacific Shipping (EPS) has reached a new milestone for its dual-fuel fleet following the successful 100th LNG bunkering operation in Singapore for its managed 210,000 dwt Newcastlemax, M/V Mount Tai.
FueLNG, a joint venture between Seatrium Offshore & Marine and Shell Singapore, deployed its latest LNG bunker vessel, FueLNG Venosa, to provide M/V Mount Tai with 4,887 cubic metres of LNG.
"This is a historic event for EPS as it proves that the viability and infrastructure to carry out LNG bunkering already exists for those who are willing to take action today. Mount Tai will be our first Newcastlemax to operate in the spot market. With the volatility in LNG pricing, bunkering our managed spot vessels showcases our commitment towards the industry's energy transition to lower emissions," shared EPS CEO, Cyril Ducau.
This is the first bunkering operation for FueLNG Venosa, which was built in Hyundai Mipo Dockyard Co., Ltd. The state-of-the-art vessel has a total capacity of 18,000 cubic metres, bringing significant economies of scale with its ability to carry out simultaneous cargo handling and bunkering operations.
Saunak Rai, General Manager of FueLNG, said, "We are delighted to celebrate the first successful LNG bunkering operations of FueLNG Venosa with Mount Tai, alongside the remarkable achievement of our valued customer EPS on completing their 100th LNG bunkering operation. This milestone signifies our collective dedication to advancing sustainable shipping. Congratulations to both the crew and officers of FueLNG Venosa and Mount Tai on these accomplishments!"
Tahir Faruqui, head of Shell DownstreamLNG said: "Working with like-minded customers like EPS is crucial in accelerating the energy transition. Shipping companies can meet decarbonisation targets up to around 2030[1] to 2035[2], just by switching to fossil LNG[3]. Their progress toward net zero will be further improved when bio-LNG and ultimately renewable synthetic LNG are available for blending. It is great to see EPS investing in new vessels with the lowest methane slip[4], showing that options are available today for those who are serious about avoiding methane emissions."
Like all EPS managed LNG dual fuel vessels, M/V Mount Tai, which is chartered on consecutive voyages with BHP, is equipped with ME-GI (M-type, Electronically Controlled Gas Injection) two-stroke engines that have negligible levels of methane slip. M/V Mount Tai will be a part of EPS' low carbon emission fleet, transporting iron ore along the green corridor from West Australia to Northeast Asia.
updated June 27, 2023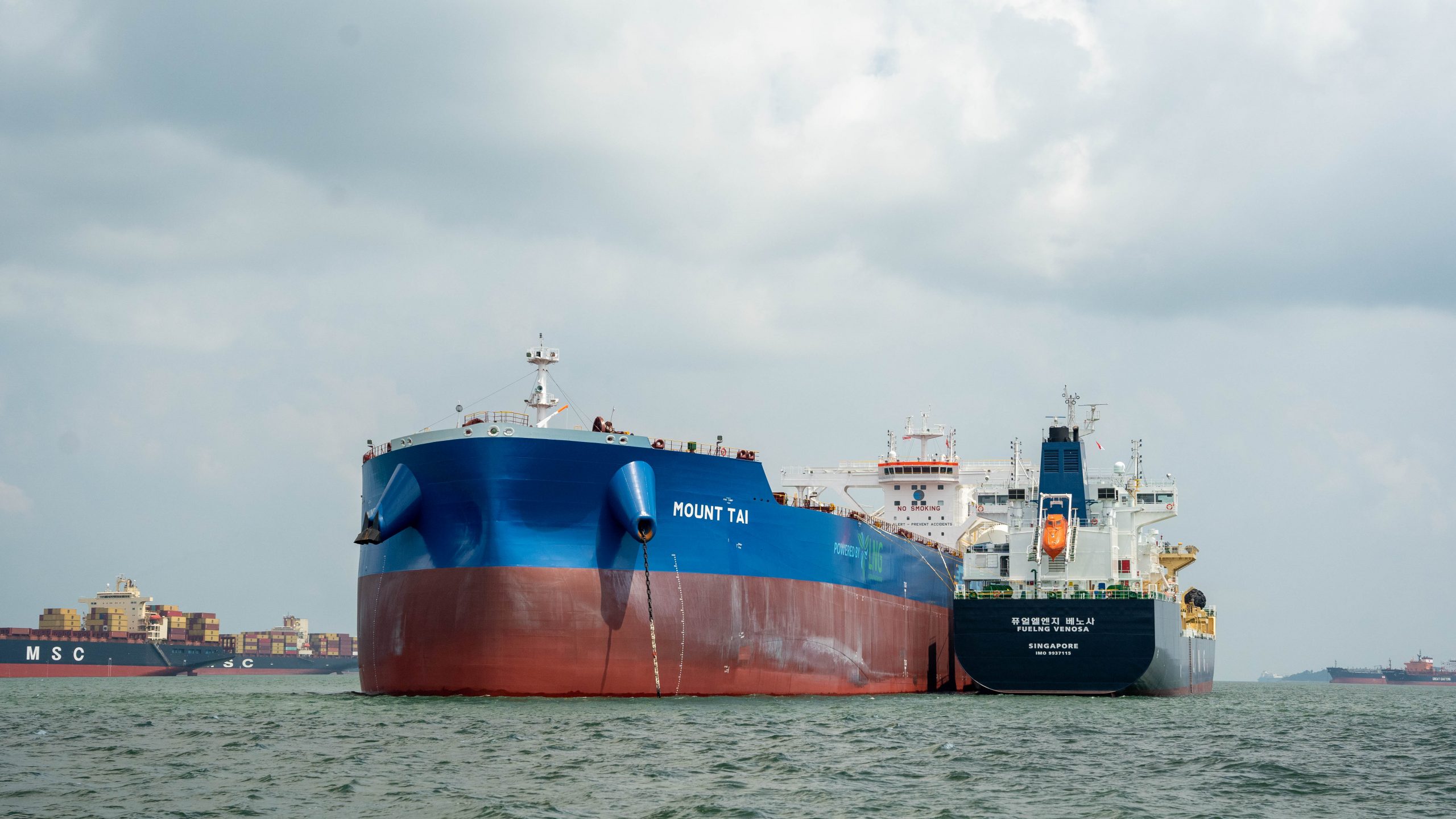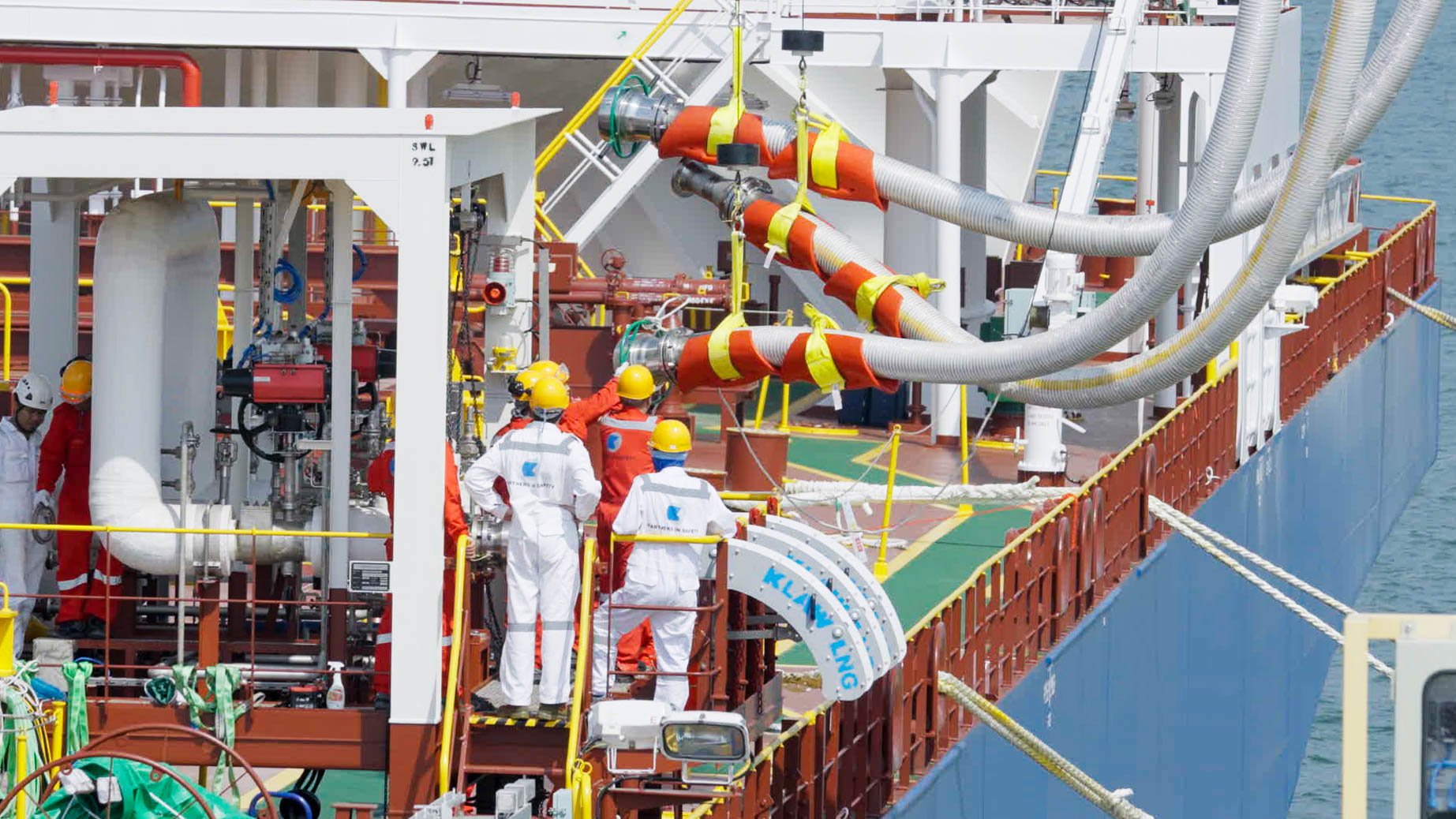 About Eastern Pacific Shipping
With a history spanning 60 years, Eastern Pacific Shipping Pte. Ltd. ("EPS") is a leading shipping company that is committed to the green and technology-driven growth of the industry. Headquartered in Singapore for the past 30 years, EPS is driven by its mission to be the safe and efficient transportation provider of choice to the shipping industry. Empowering that mission is a 6,000 strong and growing workforce across sea and shore. They oversee a versatile fleet of 230 vessels and 22 million deadweight-tonnes across three core segments of containership, dry bulk, and tanker vessels. EPS' shore team is fully integrated with in-house commercial, finance, innovation, IT, legal, manning, operations, and technical departments.
About FueLNG
FueLNG, a joint venture between Seatrium Offshore & Marine Limited and Shell Singapore Pte. Ltd., is committed to providing safe, cost-efficient, and reliable solutions in Liquefied Natural Gas (LNG) bunkering in Singapore. FueLNG is able to provide LNG bunkering to a wide variety of vessels through truck-to-ship or ship-to-ship bunkering.
Awarded the LNG bunker supplier license by the Singapore Maritime and Port Authority in 2016, FueLNG works with industry partners to build a world-class LNG bunkering network and encourages the adoption of LNG as a marine fuel.
For more information, visit https://www.fuelng.com.sg or email info@fuelng.com.
[1] This is based on one calculated scenario, based on a 10,000 TEU ship, with LNG, a 2-stroke high pressure (HP) diesel dual fuel (DF) main engine and 4-stroke Otto DF auxiliary engine. For IMO, the aim is for ships to maintain C Rating. Post-2026 IMO CII AER targets have not been determined, so targets were assumed to become 2% more stringent each year. Actual CII rating is defendant on a number of factors and this is an indication for one scenario. 
[2] This is based on one calculated scenario, based on a 10,000 TEU ship, with LNG, a 2-stroke HP Diesel DF main engine and 4-stroke Otto DF auxiliary engine. For FuelEU, a baseline value of 91.16 gCO2e/MJ was applied and targets from the trialogue agreement proposal (19th April 2023) were used. Pilot fuel was also considered. 
[3] Sphera's Second Life Cycle GHG Emission Study on the Use of LNG as Marine Fuel, 2021. LNG offers a GHG benefit of up to 23%. This is highly dependent on the engine technology installed with the 23% savings referring to a high pressure, 2-stroke slow speed diesel dual-fuel engine compared to Very Low Sulphur Fuel Oil.
[4] Sphera's Second Life Cycle GHG Emission Study on the Use of LNG as Marine Fuel, 2021