EPS Cares Initiative
08 May 2020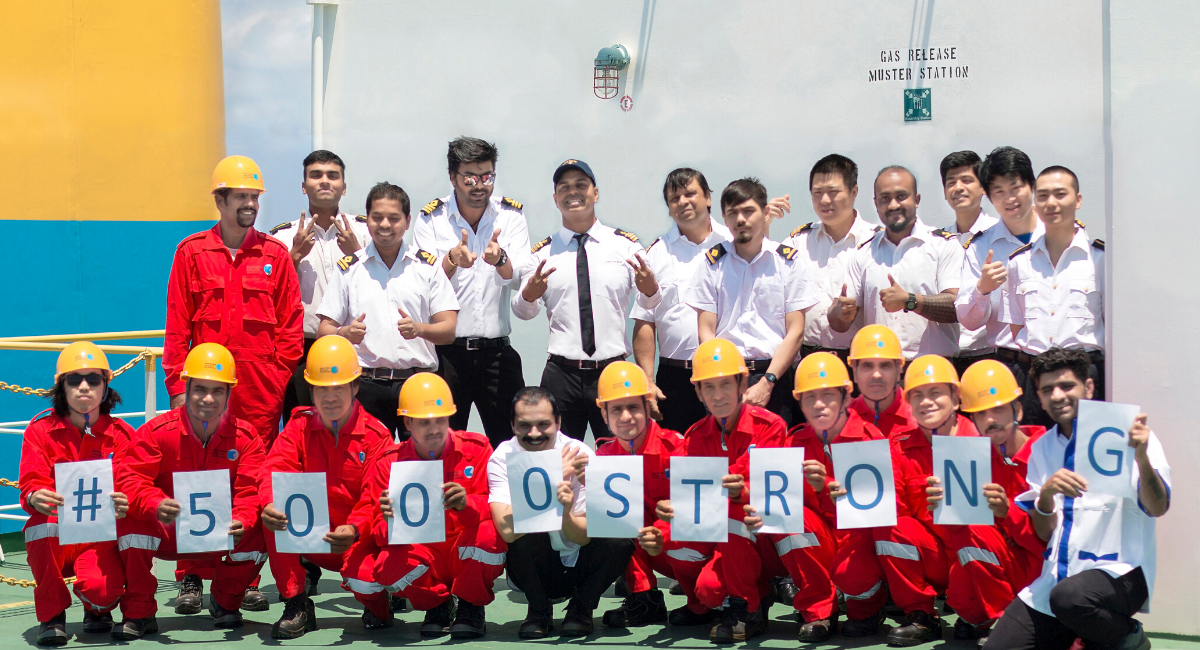 When the emergence and spread of COVID-19 began, the global community came together to enable socially responsible measures to combat the virus. We have all made personal and professional sacrifices, but none compare to the sacrifices made by seafarers across the world. Our colleagues at sea have been unfairly subjected to international restrictions forcing them to be frontline workers. Despite the delayed sign-offs, extended contracts, and mental fatigue, our seafarers have remained positive, resilient, and inspiring. To help our team cope, EPS enhanced its Life at Sea wellness programme by creating the EPS Cares Initiative.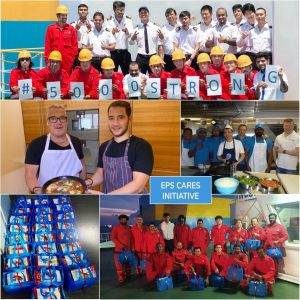 The Life at Sea programme focuses on the overall and long-term mental and physical wellbeing of our seafarers by installing state-of-the-art gyms, designing new collaborative accommodation areas, and increasing connectivity onboard. The EPS Cares Initiative, however, addresses the current situation our colleagues are facing. This ongoing initiative includes a wide variety of measures such as free data allotments to stay in touch with loved ones onshore, a monetary bonus scheme, and access to trusted news sources and mental wellbeing videos to help manage stress and anxiety.
The initiative also promoted a company-wide cook-off challenge as well as the creation of personalised seafarer care packs. The cook-off challenge was a team-building exercise where seafarers gathered in their galley's and shore staff in their home kitchens to make the popular Mediterranean dish, Shakshuka. What started as a fun challenge quickly blossomed into a movement that included hundreds of EPS employees across sea and shore putting their culinary skills to the test. Photos and videos of our colleagues in action were submitted and edited together in an eight-minute-long montage. The video served as a significant morale booster for the entire EPS Community as it showcased how diverse and connected we are despite geographical and cultural differences.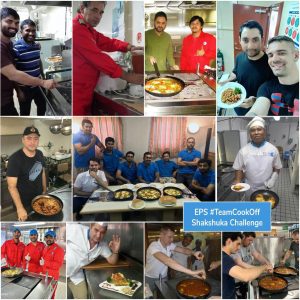 The creation and distribution of personalised care packs have proven to be another positive reminder for our team that they are not forgotten or alone. The care packs, which serve as a token of appreciation, includes a personalised letter of thanks and encouragement signed by EPS CEO, Cyril Ducau and EPS COO, Capt. Anil Singh.
"The idea and development of the EPS Cares Initiative was an easy decision for us to make," said Capt. Anil. "The execution of the initiative was a prime example of teamwork as it took a coordinated effort from many different people at sea and onshore. These measures certainly do not compensate for delayed sign-offs, being away from loved ones, or for being unwillingly thrust into the frontline. Still, it does serve as a reminder that everyone that works for EPS is part of the EPS Community and never alone. It doesn't matter if you are in one of our global shore offices or sailing on one of our ships, you are part of our 5000-strong team and we will always look out for each other."
These efforts have not gone unnoticed onboard. Capt. Kyrylo Gorshkov, master of M/T Silver Ray, says, "Our crew is having a difficult time onboard being locked down for an undetermined period and away from our families. We felt touched by our surprise gift packs. After a long time, I saw the crew cheering for each other when receiving their gifts. Thank you for helping us overcome the difficulties we are facing and for your support and care!"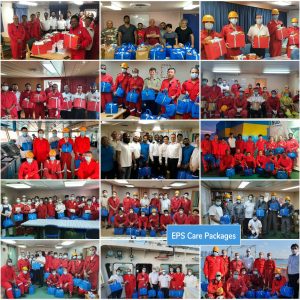 Although it is still not clear when crew change restrictions will be fully lifted, one thing is clear, the EPS Life at Sea wellness programme will ensure our community remains healthy and safe regardless of what obstacles come our way.