eps accelerator featured in Lloyd's List
15 April 2020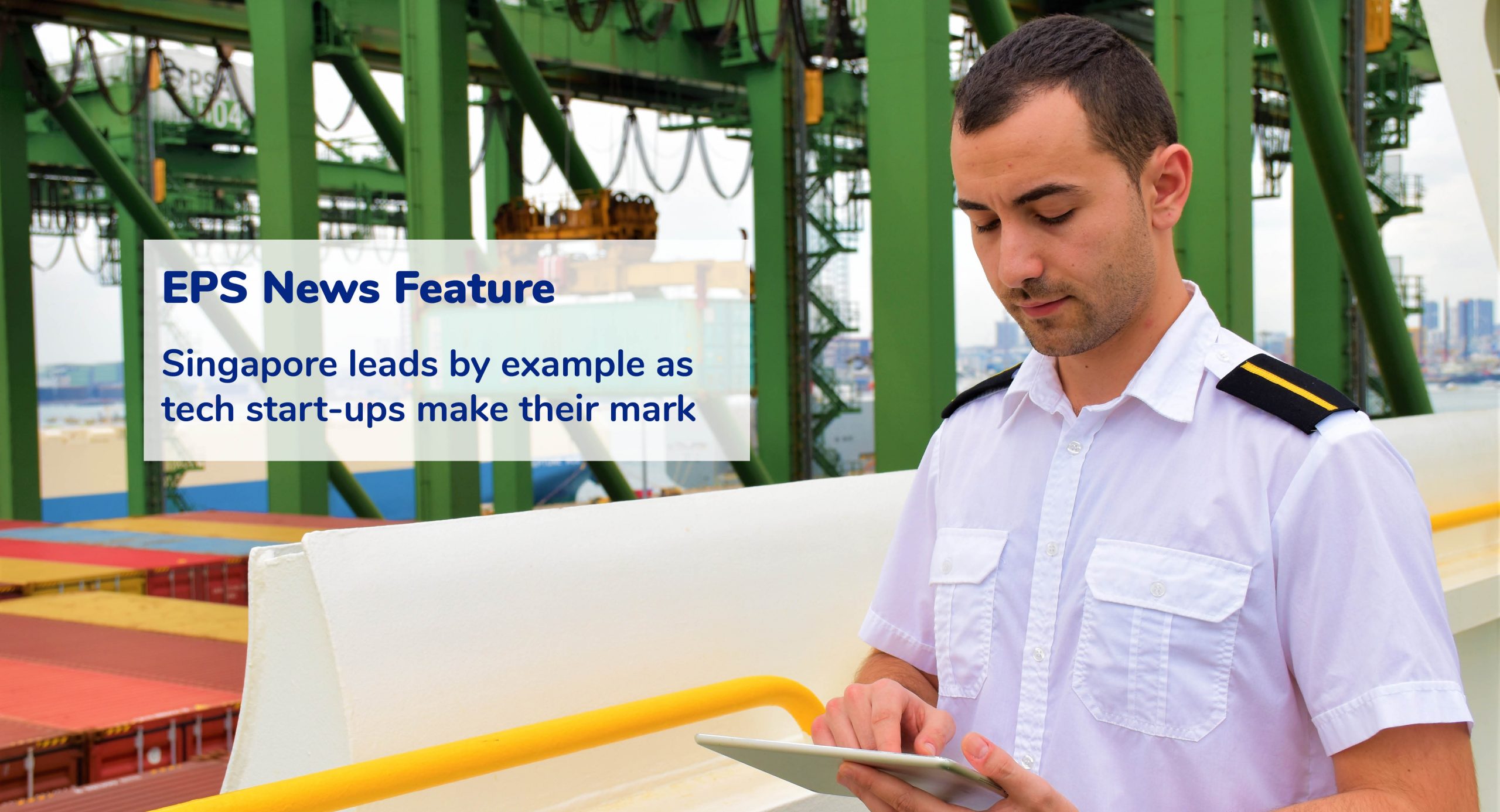 The Eastern Pacific Accelerator powered by Techstars was covered in Lloyd's List this week. The article recaps the year one programme, discusses ways forward for the industry, and features quotes from EPS' Head of Open Innovation, Gil Ofer!
Singapore leads by example as tech start-ups make their mark
In the shipping industry — as in so many others — it is a matter of survival of the fittest. Technology can play a big part in establishing who will be the winners
15 Apr 2020  ANALYSIS by Inderpreet Walia 
Although not everyone is convinced that digitalisation is going to transform the shipping world beyond all recognition, it seems clear that this time around, shipping companies will have to adapt to stay in business.
CHARLES Darwin once said it was "not the strongest of the species that survive, nor the most intelligent, but the ones most responsive to change." 
For shipping, technology has evolved to the point where change is nigh impossible to avoid. 
Digital disruption has already shaken the status quo of this notoriously conservative industry, with shipping's plodding giants now racing toward greater technology adoption, phasing out legacy operational processes from vessel operations to ship design to shipbroking, as the sector seeks greater efficiency and output. 
Singapore-based operator Eastern Pacific Shipping, led by Idan Ofer, has been at the forefront of these digital advancements, joining hands with Techstars in 2019 to launch the world's first global maritimetech start-up accelerator, the EPS Maritimetech Accelerator powered by Techstars. 
The first batch of digital disruptors, which gathered in EPS's Singapore headquarters in Singapore in November last year, held an online demonstration day for the nine companies that took part in its effort to back technology development in shipping. 
The start-ups attracted a lot of attention. Some obtained significant contracts, as well as offers of funding. 
Eastern Pacific Shipping head of open innovation Gil Ofer said: "We knew that by partnering with Techstars, this would be a mentor-driven programme whereby our staff would be in constant close communication with the start-ups." 
"What we did not expect was the amount of openness and collaboration from the wider maritime community. More than 160 external mentors came in to meet and establish relationships with the teams — who were all aligned in the desire to bring the shipping industry to technological relevance." 
Under the programme, the start-ups were granted access to develop products in an onboard and onshore environment to innovate and solve problems such as fuel consumption, operational efficiency, fleet performance and improving life at sea for seafarers. 
The batch had nine start-ups. They included C-Log, which recently moved its global headquarters to Singapore; US-based Volteo, which has spun off Volteo Maritime as a Singaporean company; and Nautilus Labs, which is also establishing a permanent office in Singapore while keeping its headquarters in New York City. 
Other start-ups include Cyberowl, Enermo, F-Drones, QuantShip, Saara and SeaMiles. 
"The key to innovation is collaboration," Mr Ofer stressed. "Gone are the days of working in silos and behind closed doors. If we want to move forward as an industry, we need to be willing to discuss pain points and challenges openly. By being transparent, we can identify problems and develop solutions instead of wasting time on solutions for problems that do not exist." 
Ripe for change 
Although not everyone is convinced that digitalisation is going to transform the shipping world beyond all recognition, it seems clear that this time around, shipping companies will have to adapt to stay in business. 
New York based Nautilus Labs, a software company focused on increasing shipping fuel efficiency and one of the nine start-ups under the EPS Maritime Tech Accelerator, noted that the industry has become fatigued with flash-in-the-pan "disruption". 
"What we are finding is that our clients do not want disruption; they want co-operation, partnership and evolution," chief executive Matt Heider said. 
Nautilus Labs has a unique platform that provides decision support based on vessel-specific machine-learning models and customises recommendations for each ship. 
"More and more, owners and operators are trusting us with their assets because we have not only proven that we can generate actualised savings but because we develop and release feature updates to our platform based on their continuous feedback," said Mr Heider. 
In April 2019, Nautilus Labs secured $11m in Series A funding from M12, Microsoft's venture fund, and Root Ventures. Together with other investors including Quiet Capital, Trail Mix Ventures and Amplifier, Nautilus Labs has raised a total of $14.5m. 
Quantship chief Kaushik Reddy said: "It is challenging for sure, but we observed that if you are solving the right problem, the resistance is not that bad." 
Quantship has developed a price-prediction technology for freight and charter rates for bulk shipping companies and helps in fixing the freight and chartering the vessel at the right time to maximise revenue by leveraging volatility and market inefficiencies. 
Creating values 
EPS MaritimeTech Accelerator start-ups have developed an entirely different way to handle the process of serving the maritime industry by providing valuable additions to shipowner's toolbox. 
Most of these maritime tech start-ups believe disruption is not the only way forward; they are also about helping the sector evolve into a better version of itself. 
"We focus exclusively on maritime shipping, because ocean vessels consume as much fuel in a single day as Tesla has saved in that company's lifetime," Mr Heider acknowledged. "That presents a massive opportunity to affect meaningful change by driving efficiency and creating competitive advantage for our clients." 
He said the start-ups worked in direct partnership with the owners and operators that comprised their growing global client base, by deploying state-of-the-art machine-learning technology in a user-friendly data platform that can interoperate with any existing shipping hardware or software. 
Another EPS MaritimeTech Accelerator programme start-up is Volteo, which offers technology solutions to enable maritime enterprises to automate business workflows leveraging the cloud, the internet of things and mobile maritime. 
Ships and terminals across the globe still rely on manual and paper-based processes, resulting in countless wasted hours, escalated costs and poor experience. 
Volteo Maritime, a Singapore firm specifically set up to address this massive problem, built Wayship as part of Techstars' programme. 
Wayship is a smart digital workspace, delivered via several handheld devices, that reimagines ship operations management. 
With Wayship, ships' crew can save hundreds of collective hours enabled by intelligent data sourcing, bringing ease in capturing electronic logs, checklists, drills, inspections and crew work-rest hours in ways that adapt to their work patterns. 
"We believe digital workflows deliver great experiences and can unlock productivity for the entire maritime trade," said Volteo. 
Key ingredients 
Shipping is still a very fragmented industry and the real challenge is to overcome the inconsistency in how different owners and operators approach decisions. 
The key ingredients for a shipping entrepreneur are "deference and respect", according to Mr Heider. 
"Shipping is still — and will continue to be — the backbone of the global economy. It is a modern miracle of physics, engineering and human endeavour to get a vessel from one port to another, every day, while keeping crew safe and cargo intact," he told Lloyd's List. 
"Without an appreciation for the difficulty, sacrifice — and, frankly, danger — involved, entrepreneurs will be disconnected from the spirit, mission and evolution required to participate."